Meet Andy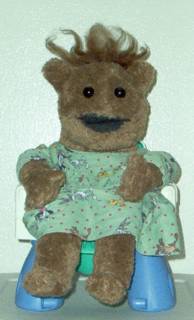 This is Andy. I made him for my Therapeutic Play class at Louisiana Tech University. Puppets are a great way to get kids to open up about things going on in their lives. They are non-threatening, so kids are often more open with a puppet than they are with adults. When preparing kids for surgery, kids will frequently say that the puppet is scared, which usually means the kid is the one who is scared. We let the puppet know that is it okay to be scared.
Children's misconceptions are often revealed during these sessions. A common fear of hospitalized children is that the hospitalization/surgery is a result of disobeying parents. During medical puppet play, a child life specialist can explain to the child that they did nothing wrong, that it isn't their fault.
There are also dolls called blank cloth dolls that I utilized often. I don't have a picture of one, but they are pretty much just what the name says: blank. Women's church groups frequently supplied these dolls. They are usually made of a poly/cotton blend in various skin tones, but they need to be light enough so that permanent markers will make visible marks on the fabric. I would bring them in to the child who was either about to have surgery or who already had surgery. I would mention that the doll had no clothes and wondered if he or she was cold. The child would determine the gender and name of the doll and draw some clothes on it.
Once that was done, I would bring out various medical supplies such as gauze, bandages, cotton balls, syringes, blood pressure cuff, tongue depressors, and a stethoscope. The "little doctor" would examine the "patient" and perform the necessary procedures. This is another valuable assessment tool that kids loved to take part in without realizing they were being evaluated.